The mosaic-marquetry process is an ancient decorative woodworking technique. The process is supposedly of Persian origin, later passed on to the Moors in Northern Africa and finally appeared as embellishments on guitars (principally as a rosette ornament around the soundhole) during the 800-year Muslim occupation of Spain.

In 1999, tutorial student Gary Williamson asked me to persuade my dear friend, the classical guitarmaker and master marqueter Alan Chapman, to come in for a day and show us how he makes his fabulous rosettes. I kept a documentary record of the process. Links to it are found below.




Rosette by Alan Chapman on a Cumpiano guitar made entirely of undyed, natural woods.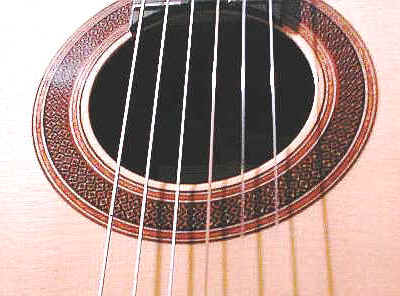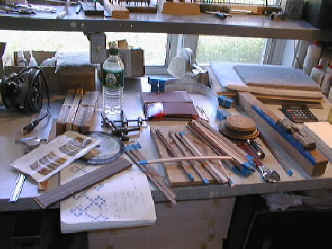 This was the stuff Alan brought to the shop in order to do the tutorial. He used my table saw with a fine slitting blade and my drill press. Everything else he needed he brought in a large paper bag.
At left is Alan Chapman himself, a wonderfully talented luthier from whom I've learned a great deal. Specializing in lattice-braced designs, Alan taught Industrial Arts for years before entering luthierie, and currently builds world-class instruments for prominent guitar teachers and recitalists, principally in the Eastern US.
Photo sequences:
1- The veneer sandwiches are glued up and sliced into columns
2- The columns are assembled into logs
3- The logs are sliced into tiles
4- The tiles are inlaid into the soundboard, forming the rosette.