Manuel Velázquez: an appreciation
Writings Index Cumpiano guitars Cumpiano articles archive Make a guitar with William
GAL Symposium '85: William introduces Don Manuel
Don Manuel Speaks at Symposium '85
William interviews Don Manuel
Previously published in American Luthierie, organ of the Guild of American Luthiers

Manuel Velázquez shows his "smart callouses."
Photo courtesy GAL

Manuel Velázquez: An Appreciation
by William Cumpiano
lecture and introduction to Don Manuel given at the GAL Symposium '85
Adapted by the author from his article in the Journal of Guitar Acoustics


In 1946, Manuel Velázquez opened his workshop in New York City. Today his guitars are sought and praised by serious guitarists from all over the world. Among the many guitar players that own Velázquez guitars are Paul Simon, Hituro Suzuki, Rey De La Torre, Jorge Morel, Harry Belafonte, Kurt Rodarmer and many, many more. I'd like to speak a little bit about one of my early experiences with Manuel, when I went to visit him in his shop. This should give you an idea of the sort of person he is.

Manuel Velázquez is regarded among knowledgeable lovers of the guitar as one of the greatest of a dozen or so 'world class" classic guitar makers. An ebullient and affluent man on the tender side of sixty, he was born on the island of Puerto Rico, but spent the major portion of his life in the United States. He earned his reputation over a period of more than thirty years building guitars for the extremely demanding professional classic guitar market in New York City. His work has been acclaimed steadily over this period by the greatest concert artists and teachers, many of whom who consider his work second to none. A number of his colleagues rate him as perhaps the greatest living luthier working outside Europe today.

Several years ago, Velázquez returned to his native island and bought a new home and workshop in the dry southern part, near the city of Ponce. He then relocated in Arlington, Virginia [ed. He has since moved to Winter Park, Florida], but his return to Puerto Rico was a source of great joy and pride to his fellow countryfolk, and he was honored by the island government as something of a national treasure.

Early in January of 1981, I visited Manuel Velázquez. The visit was a culmination of the busman's holiday during which I also visited a number of local builders and connected with the Puerto Rican instrument making scene. At one point during my holiday, I found myself driving around in the hot sun over country roads with two luthiers whom I had befriended: they were taking me on the rounds, introducing me to other builders whose shops could be found in the lush, verdant hills and along the palm-littered coastline of the western-most region of the island. I met a surprising number of folk instrument makers, all of whom worked with great love and resourcefulness, and in spite of rudimentary facilities.

Germán and Manuel, my guides and colleagues, urged that we visit Don Manuel who lived several hours' drive away. At first, I hesitated, not wanting to disturb the labors of someone whose time was so valuable and who was doubtlessly so busy. They allayed my concerns, explaining that he was an extraordinarily gregarious and engaging sort of person who lived in a rather remote section and thus had few visitors. They had been his guests twice before and had received an open and standing invitation to return.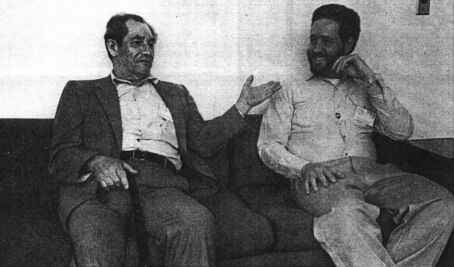 Don Manuel and William chat together at Symposium '85
Photo courtesy GAL
Thus, we were off. We arrived at a spanking new all-white home of lovely tropical design sitting atop a hill with a magnificent view of the Caribbean miles below. The landscape nearby, however, was dry, almost parched compared to the steamy greenness on display almost everywhere else on the island. The climate around Juana Diaz, usually stable and with far less rainfall, would be more suitable to the requirements of a guitar maker than rain forest.

I met the charming and gracious Mrs. Velázquez, who greeted us warmly and offered us the obligatory cup of coffee. Manuel Velázquez appeared and he embraced my two colleagues. He was shorter than I expected and had a deeply furrowed face which betrayed a lifelong propensity toward smiling. His demeanor was modest and serene, like a person who had known much fulfillment during a long creative life.

When I met him, I mentioned that we had someone in common, and I mentioned my earliest teacher's name, who had worked for years in New York City. After some thought he finally recalled Michael Gurian as an intense and driven young man, when he worked on Carmine Street in lower Manhattan during the early 60s.

It must have been a great time then for the craft! Almost all of America's best guitar making talent were working within a few blocks of each other: Gene Clark, Velázquez, Rubio, D'Angelico, Gurian. It was a time when few, outside of the New York Classic Guitar Society and a few teachers and recitalists, knew that hand building even existed as a distinct craft. And the only steel string guitars being custom-made at the time were jazz guitars.

We traded anecdotes, then he inquired about the instruments I had brought with me. His wife and young son were already tinkling on a tiny ten-string soprano cuatro I had made, entirely of rosewood, as a gift for my father. My guide Manuel took it up, and with a virtuoso's flourish, played a lovely native melody on it.

Velázquez then extracted my small steel-string guitar which I had built and patterned after the kind common in the United States at the turn of this century, when steel and gut instruments were just beginning to diverge in design.

He ran a finger of his large, muscular hand over the strings, one at a time, in sequence, and listened intently. He looked up, smiled and said, "I wish I could make nylon sound this brilliant!" I was totally unprepared for this remark. He continued, "Metal strings are so airy and effortless in the upper registers. It is an eternal struggle to extract power from nylon trebles. Pulling out resonant, rolling basses is much easier.

I mentioned that, as predominantly a builder of American traditional and popular steel-string guitars, I had found the dilemma diametrically opposite: full and disciplined basses were the challenge on the robustly constructed steel-string guitar.

He asserted that the most common shortcoming of most classical guitars were weak trebles, especially the G string, and the characteristic reticence of the notes played on the tenth, eleventh and twelfth frets of the first string. Besides, he noted, each guitar had its own set of notes that would "shout". I asked him where the remedy lay.

"I believe the solution lies in the calibration rather than the design. The plate's thickness and stiffness relative to its peculiarities, especially the soundboard, are crucial." He went on to explain that after the top is rough thicknessed and the rosette is installed he then "calibrates" it: he selectively removes material from its undersurface, taking cues from its feel, from its translucency to light, and from its resilience.

"The wood is not homogeneous - it is naturally stiffer in some places." His aim appears to be area-uniformity, but he leaves the "treble" side slightly stiffer. After the top is braced, he re-calibrates it if he decides it is necessary.

"The great Spaniard Santos Hernández would calibrate the soundboard after the guitar was built and strung up. He could not play, but he would sound a note, touch certain areas of the soundboard, sand some wood away, sound the note again, sand a little here and there, sanding and touching as he went, until he decided it was finished."

His basement workshop was small, efficient, personal. Several large workbenches were about, everything spotlessly stowed in place. Only a few tools and fewer jigs were to be seen. The only machinery apparent was an air conditioner and a very good table saw with a fine slitting blade mounted on it. He had just sent out his latest batch of guitars."Lately I've been selling my entire production in Japan." His dealer in New York makes the connection and ships them out for him.

Velázquez' guitars are traditionally sized, and patterned after the Torres model. "Torres is the great father: Hauser, the greatest builder." Like theirs, his guitars use a 65 cm scale. His soundboard is braced with seven symmetrical fanned struts and two bottom braces in V formation added to "help keep the top stable."

He personally disapproves of the long string lengths (26 inches and over) and oversize sound-boxes presently typical of Spanish production. I asked him what he thought was the justification for the large angled transverse struts found so often on Spanish designs, which served to de-symmetricalize the soundboard. He asserted that it was probably related to increased production levels. "In order to extract stronger trebles from the soundboard and to resolve those typical shortcomings without going through the time-consuming process of individual calibration, all the tops are thicknessed the same and the large slanted transverse brace is added."

Velázquez own personal inclination was towards "a stiffer soundboard and a more resilient back, rather than the other way around. The peculiar balance lends crucial support to the behavior of the soundboard." lie could, however. only speculate about the precise mechanism by which this occurred. We exchanged various possibilities. "I am still a student. I will always be a student," he admitted, without hesitance.

Germán asked him about compensating the string length against pitch distortion. He said, "I was noticing that my guitars would leave my shop with perfect intonation and, over a period of time, the octaves would go sharp. It was nothing more than the guitar settling slightly and the saddle tipping forward, eating up some of the compensation." So, he began to compensate the compensation by adding a small amount of extra string beyond the usual extra amount (totaling about a tenth of an inch). "It gave my guitars a dry (seco) sound when they were new. But they matured perfectly." One customer, a concert recitalist, was troubled by the dry sound and insisted he change it. "I tried to explain, but he was adamant: he wanted to perform with it immediately. I gave in and made him a new fingerboard with the frets cut to intonate perfectly at the slightly longer string length. He returned the instrument to the artist, who then exclaimed, "Aha! Now it is right!" Velázquez returned, "Aha! Now it is wrong.

The conversation drifted to neck timbers. He prefers Spanish cedar (Cedrela, spp.) to Mahogany (Swietenia, spp.). "Cedar has a relaxed, even fiber. Mahogany's fiber is interwined. Cedar is less reactive: besides, it is easier to work and imparts a wonderful fragrance to the guitar. Open the case and it strikes you immediately."

He regards soundbox timbers such as "Palosanto Brasileño" and "Palosanto de la India" (Brazilian and East Indian rosewood) as acoustically equivalent. "I calibrate Brazilian a bit thinner than Indian, since it is marginally denser. However, I build with Brazilian almost exclusively since the guitar can command higher prices that way. Although I am fortunately well stocked, the only Brazilian available today is trash, the dregs."

"I remember only ten years ago there could be seen hundreds of huge Brazilian rosewood logs piled up on the Brooklyn docks, sitting out in the open. As a young man I was a woodworker at the Brooklyn Navy Yard, during the early forties. A sunken troop ship had been refloated into the yard. We were given the task of dismantling the mess tables. There were several dozen tables, each about fifteen feet long and two and a half inches thick, with matching benches. They were solid Brazilian rosewood! As you can see, this wood which we call holy (palo santo; holy timber), it was squandered, like water." Now a choice Brazilian Set for one guitar can command a hundred dollars or more: hardly a single board foot in volume."

"I built my first guitar from scraps of that same wood. That was in 1942." His woodworking knowledge had been gained first as an adolescent working in his older brother's furniture shop in Puerto Rico. His brother also fabricated cuatros. "That's where the bug bit me."
"I have been using "Cipres Canadiense" (Canadian Cypress, known to us as Western Red cedar, Thuja plicata) recently. The results are crisper, livelier: people like the sound. But "Pino Alemán" (Bavarian Spruce, Picea excelsa) is far better over the long span." When queried, he replied, "I leave he cypress a bit heavier than the spruce for similar results; it's not as strong."

What soundboard thickness does he work to? He gestured with his thumb meeting his index finger raised to eye level, squinting slightly and rubbing them as if feeling an imaginary soundboard. "I prefer to use these rather than a caliper. It does not really interest me what the measurement is." His thumb and index finger seemed to have rather large, fleshy pads on them. "These calluses have developed as a result of the way I work the tops." Clearly, he finds that he can dimension his guitar plates better without a micrometer, because he believes only the fingers can ask all the necessary questions of a piece of wood.

At that instant, I had the renewed realization that words are, alas, hardly equal to the task of objectifying the subtleties of guitar-making. Here was the fountain: Yet still I thirsted. Mere words would not quell the burning need to understand that universe within the guitar as perceived by this self-effacing master. My long search was not to end here, not yet.

But Don Manuel, who also long ago traveled this same road, had declared, hadn't he, that he too, was a student still; still a traveler. I then realized that his unique sensitivity was born of something as terribly simple as it was elusive: his skill emerged from familiarity, from a learned empathy with the timbers, from a deep understanding of the purpose and goals of the craft. If I was worthy - that is, if I chose to persist, those smart calluses would likely appear someday on my fingers, too.


So please help me in welcoming...Don Manuel Velázquez.

(There is much applause as Don Manuel ascends the stage with some difficulty, due to his arthritis. He jokingly remarks as he sets his cane aside, I am worse to walk than Mr. Martin [C.F. Martin III, who is present]. I hardly can walk!
...back to top of page



Remarks to Symposium '85
by Manuel Velázquez
Transcribed by Dick Boak


Good evening, ladies and gentlemen. First of all, I would like to thank everyone involved in the preparation of this "Symposium in American Lutherie 1985", for inviting me and my family here tonight. I am not going to get into very specific details on guitar making tonight. It would take far too long to explain, since I have been making guitars for over forty years. Instead, I will give you a brief summary of what I believe it takes to be a luthier.

I dare say that the ability to be a good luthier, or a great luthier, is within you, but I must point out that you have to find the technique to develop that ability. Attention and concentration are important principles in guitar making. These are the direct factors necessary to increase your skill; everyone knows their value. Without the attempt to develop these, guitar making would not be completely satisfying. Some guitar makers do not attempt to improve their work, because they claim to find this too difficult. However, attention and concentration are not difficult to accomplish when they are approached properly.

To gain a deeper understanding and knowledge of guitar making, you should also follow the ideas you learn from the masters. Any professional in his field should strive to polish and perfect his skill, and in guitar making this should be constantly kept in mind. Learning to accept other ideas is part of developing your skill. Almost anyone with a good trained musical ear will tell you what sound of guitar you have created. To listen to this opinion is part of what you have to learn as a craftsman to satisfy your friends and clients.

Therefore, to get the most out of the wood in making the guitar, it is essential that time is spent in the factor mentioned, so a better sounding instrument can be obtained.

As I always say, a guitar is more than just a sound box. It is part of your soul!

(There is a standing ovation as Mr. Velázquez leaves the stage. Bill Cumpiano invites Kurt Rodarmer to the stage to demonstrate his personal Velázquez guitar, as well as one Manuel has recently completed. The two numbers, played in Kurt's flawless and delicate manner, are received by the audience with hearty approval and applause.)
...back to top of page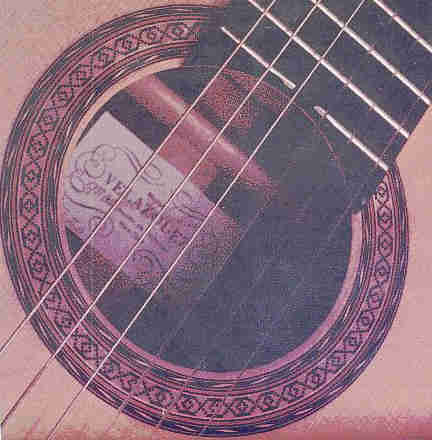 Chat With Don Manuel
Held during Symposium '85
Fifteen questioners present; William Cumpiano taping, translating and transcribing
Don Manuel, the back and the top of your guitars seem to be fairly stiff. What is the difference between a stiff back and soundboard, and a looser one?
It's a good question. The Spaniards believe that by taking out plenty wood, especially on the top, they will have a better sound. But in guitars of Hauser, even Torres, because I have repaired many Torres guitars, I found the top is not so thin as a Garcia, a Simplicio or even Santos Hernández. Or a Ramírez. They use a very thin top and then they add wood. What they are doing is to kill the sound of the top. That's why you find the top of my guitars a little stiff, because I leave them a little thicker. If you pass your fingers or a caliper all around you will find some places thicker, some places thinner, but that will come with years of making guitars and experimenting.
Do you taper the tops and backs, are they thinner along the edge?
As a violin. In a good violin, you will see that the top is thinner in some places, and in some places is thicker. The same thing in the guitar. That's a reason the Spanish...I'm sorry. I hope there isn't a Spaniard in here, I don't believe there is. You are a Spaniard?
No.
No. Good. That's why the German guitar makers put down the Spanish people in guitar-making. As I said, they make the tops too thin, believing that it is a bigger sound, and they are absolutely wrong.
It sounds like you believe that the tone is in the wood.
In the wood. Not in the braces. The brace is to protect the vibration. If the top vibrates too much, the vibration will disturb the...how... [in Spanish] las ondas...
The waves.
The waves. And the projection of the instrument.
What do you think of some of the other exotic hardwoods, the scarcity of Brazilian rosewood, East Indian rosewood. Any other possible guitar woods?
Right. I work in mahogany. And I find out that mahogany has a bigger tone than any other wood. Believe it or not, it is a bigger sound. It doesn't have the quality, the mellowness as has the Brazilian and the east Indian. It's like a violin: If you don't use maple, if you use another wood, you won't get that beautiful tone that maple has. Mahogany has more volume, but rosewood has a higher quality tone. And mellowness. And projection.
Do you feel that Brazilian is any better than Indian rosewood?
No. It has more beauty, but not better. Because a good piece of East Indian rosewood is good as any bad piece of Brazilian rosewood. Besides that, I prefer East Indian. Why? Because Brazil is too brittle. Even in your hands, it can split very easy. And East Indian has more resistance. Practically 90% of Brazilian rosewood guitars, sooner or later they are split.
When you thin the top or back down in certain areas, what are you trying to do? Are you listening for a sound?
Checking all the time. I bring the top down to 3mm thick. Then I cut out the top of the guitar, put on the sides, the braces, everything. But before I do that, I use my fingers, regardless that I have all those calipers that I bought in Germany. It's your feeling, you feel the thickness, like this: [gestures by putting thumb and index finger together]. Where it's thicker and where it's thinner. Then you make a mark, a mark you will understand yourself, nobody else will understand what you mean with that. Nobody else, even my wife, they do not understand all my marks. They ask me, "Why you put all those marks?" I say, "Those will come Out when I sand the top" [chuckles]. The uniformity, even the density of the wood, you can feel it. In those two fingers. And there I put a mark. Many people believe in secrets. Where there is more density, I put the "0'. After I put on the marquetry and everything, I start to work with a hand scraper, and look inside with a bulb. Inside the wood of the guitar. Not a big bulb, because you can burn the instrument: small, fifteen watts. I put the marks on and then I scrape there, so I would see. And the shadow will show you where you need more and less, more and less. It's not easy. But that's the way I do.
Are you aiming for uniformity?
Not uniformity. Some places thicker, some places that are thinner and so forth. The darker area you can scrape.
Are the dark areas denser, or thicker, or both?
No, no. Thicker. The density, you can feel it. You can sense [it].
Do you have to mark for density before you put it together?
I mark, I put an arrow. And after that I scrape then I put the bulb. And then I can see where its thicker. Because the shadow will tell you where it's thicker, where it's thinner.
So when you're through, you can see the light evenly?
When you are through with that you will see the evenness. It's not easy...
Is that consistent from one guitar to the next? Or does it always change?
Always change. There are not two guitars that sound the same. Open two tops from the same piece of wood. You make two guitars exactly the same. You put on the strings and you will find out those two guitars don't sound the same. One sound more, or sound better, a mellower sound and so forth. That, nobody can teach to you. You can teach many things, but there are so many things you have to learn by yourself. Because most of the things in making guitars, are in you. What you feel toward the instrument. And what you want to be. If you want to be a good luthier, you will find the way. If you want to be a regular luthier, there is only one way: keep going making guitars. You want to make money? Big factory!
[laughter] What is the sound most people seem to be wanting in your guitars, the mellow or the brighter? Or are they aiming strictly for the loud voice sound?
In these days, at the point the guitar has reached now, most of the people want the projection.
What with so many ways of amplifying guitars today, they still want that volume?
I'm talking of the classic guitar. Once you put a microphone in front, it's out of classical. Unless you are recording, that's a different story. I'm talking about what the Old Man told me. Once you try to amplify the sound, it is no longer natural. That's why the Old Man, the Maestro Segovia, does not accept anything hanging in the stage where he plays concerts, unless sometime he will play the concert and record it. I remember very well when he played Castelnuovo-Tedesco, his first concert, they were recording in Carnegie Hall. There were so many things hanging, but he had to accept that because they were recording. When he left there, he was so mad! But at the same time he was happy he was recording and he will receive some money [all laugh]. I know many boys, many kids want the big sound and they want to amplify.
What you like and what you enjoy is not necessarily what the public wants. Is there a conflict?
There always is conflict. If you try to please the people, that is very hard to do. You will never please them (laughter), never! The best thing is to try to please yourself. Because, 50% of the people will be pleased with you, with your work, or with the sound of the instrument. But the other 50% won't. If you try to please 100% hundred percent of the people, even a genius can't do that. [laughs] I'm sorry!
Do you use any sealer or finish inside the instrument?
Is unnecessary. Many people believe it will sound better. Santos did it. Fleta did it. I did it, experimenting: nothing happened. Hauser did it.
Can you tell us a little about your finishes?
Well, in Puerto Rico I had to use lacquer and sealer, because of the climate. The oil varnish there doesn't work well. Here, I use oil varnish. As a matter of fact, I have to see Behlen and company [the Behlen display at the Symposium], because I buy from them. I use Four-Hour Rubbing Varnish. That has been recommended by a very good violin maker. Very good material, especially for violin. How many coats? You can give four, five, six, whatever you wish, depending on the porosity of the wood. Especially on Brazilian. The pores on the Brazilian, I always say, they are cracks, channels, [in Spanish] canales. You have to put more and more, many coats in order to fill that.
You don't use filler?
Filler? No, I won't go with that. I'm too old. I like the old school.
And the old school just keeps on adding varnish?
Until the pores are all filled with the same varnish. No matter if you use paste filler, always the varnish will sink into the pores of the wood. You can put on eight coats of lacquer and after one year, you can see them. Unless you use plastic varnish. The Japanese people are using it now and some gentleman in Spain, in Madrid, name I don't mention...[audience laughs] is using plastic.

And then to take it off, my God, you have to sweat! In 1970, one gentleman brought me a guitar from Spain, to take off the varnish. A very recognized man in making guitars from Spain. I put on the special heavy paste remover to remove plastic. The instructions say, in fifteen minutes, it will come out. I wait the fifteen minutes, then I start to scrape a little. It was harder! [All laugh] At that time I had an apprentice. He is now in making guitars in Puerto Rico. And I told him, "Carrasquillo, see if you can do some-thing with this". He took one scraper, he sharpened it like a razor blade. It was as if he was scraping a piece of iron. Finally I took a scraper blade, and I made some teeth. And that was the only way I took that varnish out.
Why do you think he uses this finish?
Because they think the harder varnish will add durability to the instrument.
Can I tell you a little secret? If you take a heat gun and warm the varnish, you can get a spatula under it and peel it off in a single sheet.
Don't tell me! You see, every day, no matter how old you are, you learn something new! Since that I don't repair guitars ever again. And this a very high reputation man in Spain. He passed away a few years ago, but his son Is still making guitars.
Do you make all your guitars in the same dimensions?
The same dimensions, in a mold. The body and the fret measurements all are standard. I have a jig to cut my frets, made by Stihl in Germany. The saw diameter is about 31". My frets are made to order, in Germany, no studs. I don't like studs. You have to make a very wide groove. I like everything to go exactly. Certainly, with a knife, I do them myself, because I always use glue in the slot. If you don't use glue, when you finish the guitar, you put the string, you will find some places sound good, and some places...nothing. For that I use hide glue.

The Japanese people are very fussy. My market, my bread and butter comes from Japan. They don't argue about prices. They argue about the wood, because they want Brazilian rosewood all the time and German spruce. And I try to please them. I have to do that! They ask me, "Maestro, can you make a little curve, a little oval, in your fingerboard?" I say, "I can do that." I made two of them, and sent them. They were enchanted with it. They tried it, and it was easier. I played the instrument, and believe me, it's easier to press the barre.
What do you use for the other joints of the guitar?
In some places I use resin glue, like white glue. Other parts I use hide glue. Hot hide glue, that I prepare myself. Always use hide glue for the fingerboard. You know, in case of repair work. And the bridge, too. I use resin glue in the linings, and the back bracing. and the top bracing. But for gluing the back and sides, the back and front, I use hide glue, in case of repair work. marquetry, hide glue. On a good guitar. where you just spent three or four thousand dollars, how you going to repair? If you use Weld-Wood glue or resin glue [laughter] you have to throw it out! That's why I use hide glue. To take it out, use heat. Or, I learned from a violin maker, you can use vinegar. But the vinegar, with the knife, you can spoil the metal. [in Spanish] It lets out some ink.
Could you say a little about the differences in construction between the flamenco and classic guitars?
The construction is the same. The only thing is thinner wood. And Cypress in the body, according to the Spaniards, but now they are using rosewood for flamenco, and it sounds better. But thinner rosewood or thinner cypress. The top is exactly as a classic guitar. It could be a little thinner if you want a mellower voice. Many of the new flamenco players now want, as in a classical guitar, more projection. Years ago they wanted a very soft instrument for the rasgueado. Now they don't care about that. The well-known flamenco guitarist, Sabicas, now prefers a classic guitar to play flamenco. And the bridge has to be very, very low.
Is the box itself shallower?
A little bit, but not too much. Many years ago it was white cypress and very low action, for the rasgueado. Now they like to hear a clear sound. They like higher action.
Se esta cansando? [I asked him to let us know if he was getting tired],
I am here to please you.
Manuel, you said that you bring the top down to 3mm and then you put the braces on...
I put the braces on and I put on the sides and glue the inside linings, the diamonds that hold the sides with the top. That's working in the Spanish way.
That's sides on the top, then the back.
Right. Now, in the European way, you glue the lining first to the sides, and then you adjust those sides to the neck. And then you put them in a mold. Then after you put in the tail block, you glue the top and the back [slaps hands together]. You can glue the back first, or the top first, whatever you wish. Or if you have the ability you can do it all together. I always do all together, at the same time. That's why I use hide glue, because it gives you the time to glue the back and the top.
Then you don't have to work so rapidly? The hide glue...
You have to work very fast. But once you have assembled the top and back, and it fits perfectly, then you will just glue, put the back, get it turned, put the top, and put clamps.
You put clamps instead of using a "correa", a rope?
No, I don't believe in that. The Spanish people use that [method], and to glue the binding. I don't believe in that. I believe in clamps, ha! I use six on one side and six on the other. And then two big clamps to hold the tail and the neck. I have to make a pattern, out of plywood. It's just a piece of wood with a hole in the middle. It doesn't have to be the whole piece.
Do you use the Torres bracing pattern?
Yes. I copy from Torres, from Santos Hernández and Hauser. And, I add something.
What's that?
A little piece of wood.
Under the bridge?
Under the bridge, that is something that belongs to Torres. [ed., similar to steel string bridge plate] He put that since he start to make guitars. I am using it since I start to make guitars.
Do you think that using one bracing pattern as opposed to another makes a big difference?
Well, it changes [it]. And then the thickness of the braces is most important. You have to be very, very careful with that.
Careful when combining the thickness of the top with the thickness of the braces?
Correct. As I told you before, you don't have to put the Brooklyn Bridge inside the instrument. Even for metal strings, it doesn't have to be so much. Unless it's going to be for an electric guitar. On an electric guitar, the basses are heavier than this cane (chuckles). Then you need a solid piece of wood. But that's a different instrument. The instruments don't sound at all. What sounds is the electricity.
When we passed by the Martin exhibit, there was a Martin soundboard. You mentioned the braces were larger than they ought to be. That's when you brought up the Brooklyn Bridge, because it was scalloped.
But it's unnecessary. Even for twelve-string guitars.
That's what Chris (Martin) said, when we went through the plant, that his people said that it was overdone.
Look at the violin. Just two carved pieces of wood and one bass bar. And how many years, and they're still alive? And by the way, no good musicians buy new violins. And that's why I quit; I started Out to make violins. I quit because I would have starved to death.
The shape and size of your box, is that a Torres pattern?
Torres. Torres, Santos Hernandez, and Hauser. My guitars have a little bit from each of them, and a little from my taste, to avoid people criticizing. They say, "this is a copy". Antigua Casa Núñez, he serves you a Simplicio guitar. Exactly the same Simplicio. If you don't have any knowledge about Simplicio guitars, you will swallow that. Something so well made will fool you very easily if you don't have any knowledge about Simplicio-making. That happened with a man I know. He bought a Simplicio in Argentina - and he was claiming that it was a real Simplicio, and then I say...
How did you know it wasn't?
Inside...ha, ha, inside! All the Spanish people, they left something, they left a mark. This gentleman buy the Simplicio in Buenos Aires, and brought the guitar to me. I say, "Mister Hoffmeister, I'm sorry, but I have to tell you that this is not a Simplicio." I look inside with a mirror. Simplicio always signed his name on the cross bar, and this guitar didn't have it. And then, not only the cross bar, but under the fingerboard, as I do, I put my signature in there. The Japanese people, as soon as they receive my guitar, they pull the mirror. [Laughter]
Now I know how to forge your guitars. [Laughter] But I don't know how to make them like you do. When you dress your fingerboard, do you take a little relief out of your bass side? Or do you do it flat?
Oval, and a little slant. Like a 'cello. All the way down from the fifth fret. It doesn't need to be from the first fret. Only on the bass side; that facilitates the grande-barre in all the positions. And then, when you strike the string you can really hit it. Many people want an extremely straight fingerboard. I don't go with that. I like to have a little compensation...
We call it relief. Do you plane that in, or do you plane it straight and let the strings pull it up a little bit?
Always straight. Putting the frets is the biggest trick, so it doesn't back-bend.
I have a problem with my guitars. I put the curved back brace on the back, and then, later when the guitar is put together, the curve is lost. It gets flat.
What kind of wood...?
For back braces? Mahogany.
I prefer Spanish cedar. Because the cedar, even a green piece, you cut it and put it anyplace, and it stays straight, it never twists. Mahogany, it doesn't matter, a hundred years old, once you cut it, they can twist. It's a good wood. I even use mahogany. But instead of preparing one cross bar, I prepare six or seven, while cutting them on the saw. When you're finished, some of them are...[gestures] but some of them came straight. The ones that immediately came twisted, put in the garbage and use the other ones.
Thank you, Don Manuel.